Follow Sen. Argall on Twitter for Senate happenings – @SenatorArgall
In this Email Update:
---
House takes first step on school property tax reform—NOW, it's the Senate's turn to act!
On Wednesday, the House of Representatives approved a measure by a vote of 105-86 to provide for up to $5 billion in relief to property owners. The plan, sponsored by Rep. Stan Saylor (R-York), would provide a reduction by increasing the state Personal Income Tax from 3.07 percent to 3.7 percent and increase the state Sales and Use Tax from 6 percent to 7 percent.
The plan was debated over two days in the House of Representatives. As you know, I remain supportive of complete elimination of the school property tax and in order to do so, the plan needs to identify approximately $12 billion. That is what a large majority of this 29th district in Berks and Schuylkill Counties has asked me to do. In the Senate, I plan to offer a comprehensive amendment to the bill so that it more closely resembles what the people of my district have asked me to do—completely eliminate this archaic, unfair, and, from my perspective, unconstitutional 1834-model school district property tax.
While I'm thankful to see the House take action, many Senators and over 80 grassroots taxpayer groups across Pennsylvania remain committed to school property tax elimination. The House's vote is the next step in our decades-long struggle to find a better way to fund our public schools. I've told many of you that this is, by far, the most difficult legislative challenge I have ever attempted. Stay tuned!
Below is a map showing how House members voted on the legislation, which shows that this remains more of a regional issue than a partisan debate.
---
Senate approves medical cannabis bill
The Senate approved legislation on Tuesday that would legalize the use of cannabis for medical purposes.
Senate Bill 3 would allow individuals who suffer from certain medical conditions to apply for a medical cannabis access card from the Department of Health. A licensed health care practitioner would be required to provide written certification in order for an application to the Department of Health to be considered. The legislation creates a new Board of Medical Cannabis Licensing within the Department of State that will be responsible for regulating growers, dispensers and processors.
Senate Bill 3 now goes to the House of Representatives for consideration.
---
Senate approves new motorcycle license plate to support veterans
The Senate approved legislation on Tuesday intended to help needy veterans through the sales of a special motorcycle license plate.
Senate Bill 284 authorizes the special "Honoring Our Veterans" license plate for motorcycles and Senate Bill 285 allocates a portion of the funds raised through sales of the plate to the Veterans Trust Fund. The trust fund assists veterans in need of help with food, utilities, mortgage or rent payments, health care and other necessities of life.
The bills now go to the House of Representatives for consideration. Other bills approved by the Senate and sent to the House this week include:
Senate Bill 264 bans the sale, possession, or distribution of shark fins.
Senate Bill 514 amends the Generic Equivalent Drug Law to provide for the substitution of an interchangeable biological product for a brand name biologic.
Senate Bill 678 clarifies the arrest powers and jurisdiction of campus police officers employed by Pennsylvania's 14 State System of Higher Education universities.
---
Senate approves public pension reform measure
Recognizing that increasing public pension costs are creating an unsustainable burden on state government and local school districts, the Senate approved on Wednesday a reform measure that is projected to produce $18.3 billion in savings over 30 years.
Senate Bill 1 restructures the state's two public employee pension systems – the State Employees' Retirement System and the Public School Employees' Retirement System – in order to make them viable in the long term. In order to lead by example, all state legislators would be moved to a new, less costly plan, similar to what is commonly found in the private sector today.
The features of Senate Bill 1 include:
All new state and public school employees will be enrolled in a mandatory, 401k-type Defined Contribution Plan similar to those used by private sector workers.
Members of the General Assembly, upon election or re-election, will be enrolled in the same Defined Contribution Plan as new state and public school employees.
Current employees will be able to choose between increasing their pension contribution and lowering their future benefits.
No changes to current retiree benefits.
A Public Pension Management and Asset Investment Review Commission made up of investment professionals and retirement advisors will be established to make recommendations to the General Assembly and the Governor. Their duties will include evaluating the performance of current investment strategies and procedures of both state retirement systems regarding rates of return and associated fees paid for fund management.
Below is a chart illustrating the swing from surplus to deficit over a 13 year period.
---
Student government seminar encourages local students to debate state issues
Local students discussed a wide range of state issues during my annual Senator for a Day student government seminar at Penn State's Schuylkill Campus on Thursday.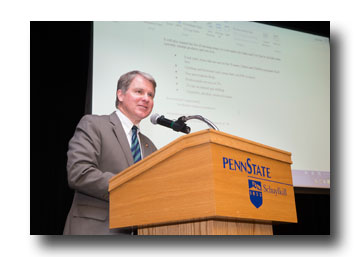 The Senator for a Day event featured over 80 students from 10 local school districts in Schuylkill County.
The program invited students to debate issues currently under consideration by the General Assembly. Proposals considered by the students included school property tax elimination, raising the driving age, fees for extracurricular activities, parental consent to join social networks, cell phone use while operating a motor vehicle, drug testing for welfare benefits, privatizing state liquor stores and monitoring of work e-mails by employers.
In addition to teaching students about the legislative process, the Senator for a Day program offers students a chance to discuss and debate the merits of some of the most important issues facing Pennsylvania.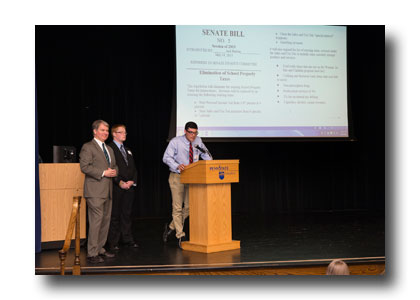 Students debate school property tax reform during a student government seminar. Blue Mountain's Jack Barton, right, and Mahanoy Area's Darryl Andreas, center, discuss a proposal to eliminate school property taxes.
Students from 10 local school districts participated in the event: Blue Mountain, Mahanoy Area, Marian Catholic, Minersville Area, Nativity BVM, North Schuylkill Area, Pottsville Area, Saint Clair Area, Schuylkill Haven Area and Tamaqua Area.
Additional details from the Senator for a Day program, including photos and video, will be available on my website.
In the fall, I host my Berks County student government seminar. Stay tuned!
---
My State 'Corrections Officers Bill of Rights' proposal receives Senate committee approval
Legislation I sponsored that would establish a Corrections Officers Bill of Rights for state corrections employees received the unanimous support of the Senate Labor and Industry Committee on Tuesday.
Senate Bill 404 would provide standards to protect the rights of state correctional officers during certain investigations by the Department of Corrections. The measure includes provisions guaranteeing prompt notification and investigation of complaints.
Read more about the legislation here.
---
Senate confirms nine cabinet secretaries on a bipartisan vote
The Senate confirmed nine cabinet nominations this week.
On Monday, the Senate approved the nominations of Major General James Joseph to serve as state Adjutant General, Dennis Davin to serve as Secretary of Community & Economic Development, Curtis Topper to serve as Secretary of General Services and Leslie Richards to serve as Secretary of Transportation.
On Wednesday, the Senate approved the nominations of Teresa Osborne to serve as Secretary of Aging, Russell Redding to serve as Secretary of Agriculture, Gary Tennis to serve as Secretary of Drug & Alcohol Programs, Dr. Karen Murphy to serve as Secretary of Health and Kathy Manderino to serve as Secretary of Labor & Industry.
During the Senate Agriculture and Rural Affairs Committee meeting to consider the nomination of Acting Secretary Russell Redding, I expressed my concerns with the governor's property tax relief plan and its impact on farmers. You can watch the clip here.
---
Berks County resident, Purple Heart veteran recognized in Pa. Senate
The Senate of Pennsylvania recognized the achievements of two-time Purple Heart recipient and Upper Bern Township resident Dennis Essig during session on Monday.
During Dennis's visit to the state Capitol, I presented him with a specialty license plate for Purple Heart recipients, as well as an official Senate Citation congratulating Dennis for his service.
During his service, in addition to two Purple Hearts, Dennis was awarded the National Defense Medal, Sharp Shooters Badge M14 with Rifle Bar, Combat Infantry Badge, Vietnam Service Medal, Vietnam Campaign Medal with 60 Device and Army Commendation Medal.
You can watch my introduction of Dennis to the Senate of Pennsylvania here.