Follow Sen. Argall on Twitter for Senate happenings – @SenatorArgall
In this Email Update:
---
Property Tax Independence Act introduced in Senate
On Tuesday, several cosponsors joined me to formally introduce Senate Bill 76 – the Property Tax Independence Act. The legislation has strong support locally and continues to pick up steam across the state. The plan was developed by over 80 grassroots taxpayer advocacy groups. While 23 Senators cosponsor the bill, this is truly the people's bill!
Pictured below are Senate Bill 76 cosponsors and supporters Senators Camera Bartolotta, Tom McGarrigle, Judy Schwank, Bob Mensch, me, Mike Folmer, Lisa Boscola, Mario Scavello, John Yudichak, John Wozniak and Pat Stefano.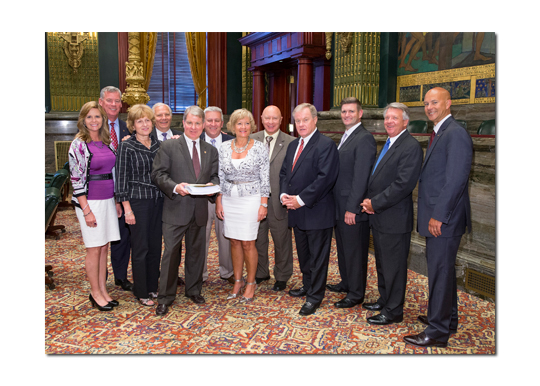 On Tuesday afternoon, I met with Senators Bob Mensch, Mike Folmer and John Rafferty (pictured below) to discuss the legislation.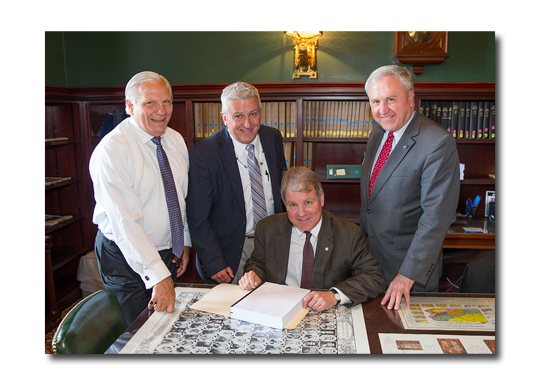 Not pictured are cosponsoring Senators Andy Dinniman, Jim Brewster, Wayne Fontana, Lisa Baker, Kim Ward, Rich Alloway, Ryan Aument, Lloyd Smucker, Pat Browne and John Eichelberger.
I've said it before: This is the most difficult issue I've ever worked on but I'm not giving up!
It was reported this week that about 70 percent of school districts in Pennsylvania plan on raising property taxes. Seventy percent! According to a survey conducted by the Pennsylvania Association of School Business Officials and the Pennsylvania Association of School Administrators, this will be the sixth consecutive year that more than 50 percent of the state's 500 school districts raised property taxes. Read more about the survey here.
Last month, Karen Shuey of the Reading Eagle covered the issue in a detailed story about Berks County being at the epicenter of the school property tax issue. You can read her article here.
---
Bill addressing fraudulent doctors, flu shots for kids sent to the governor
A bill addressing individuals who fraudulently pose as doctors and legislation that allows pharmacists to provide flu shots to children received final legislative approval this week and is headed to the governor's desk for his signature and enactment into law.
Senate Bill 485, which was approved by the House of Representatives on Tuesday, increases the criminal grading for impersonating a doctor of medicine and providing medical treatment, from a second degree misdemeanor to a first degree misdemeanor.
The legislation is based on a recommendation made by the Philadelphia Grand Jury which investigated and ultimately indicted Dr. Kermit Gosnell and other employees at his "House of Horrors" abortion clinic. Although Gosnell was ultimately sentenced to life in prison for murder, several of his employees, who were practicing medicine without a proper license, received lenient sentences for their crimes. Currently, impersonating a physician is treated the same as impersonating a notary public or other licensed professional under Pennsylvania law.
House Bill 182, which was approved by the Senate on Monday, amends the Pharmacy Act to allow authorized pharmacists to administer flu immunizations to children 9 years of age and older and allows qualified pharmacy interns to administer injections under supervision.
---
Local high school students featured in latest Argall Report
My monthly television show features local high school students who participated in my Senator for a Day program at Penn State's Schuylkill Campus in May.
The student government seminar invited students to debate and vote on issues currently facing the General Assembly, including school property tax elimination, drug testing for welfare recipients and privatizing state liquor sales.
The Senator for a Day program is designed to give students an in-depth look at the legislative process, including the ability to consider bills in committee, offer amendments to legislation and debate the merits of various proposals among their peers.
Students from 10 local school districts participated in the event, including Blue Mountain, Mahanoy Area, Marian Catholic, Minersville Area, Nativity BVM, North Schuylkill Area, Pottsville Area, Saint Clair Area, Schuylkill Haven Area and Tamaqua Area.
The program will air on:
• Blue Ridge Communications (Channel 13) every Monday at 10 a.m. and every Wednesday at 10:30 p.m.
• Comcast On-Demand on Channel 1 – Get Local – Government – State Senate.
• Reading (Channel 21) and Hamburg (Channel 19) every Monday at 3 p.m. and 8:30 p.m. and every Tuesday at 9 a.m.
• Service Electric (Channel 19) the 2nd and 4th Wednesday at 7 p.m.
• The program is available on Berks Community Television, Shen-Heights TV, Hazleton's WLYN TV 35 and MetroCast Communications Channel 10. Please check local listings for air times
Photos from my Senator for a Day event are available on my website and Facebook page.
I will be holding a similar program with schools in Berks County located in the 29th Senatorial District this fall.
---
Over 5,000 residents participate in town hall meeting
On Wednesday night, I hosted a telephone town hall meeting with residents from Berks and Schuylkill Counties. During the hourlong event, I answered 25 questions ranging from the state budget, job creation programs, pension reform, medical marijuana and school property tax reform. I appreciate the range of questions and the opportunity to speak with 5,278 local residents about important issues concerning your state government. During the call, I asked five questions about hot topics currently being debated in the state legislature. Please see the results of the questions below.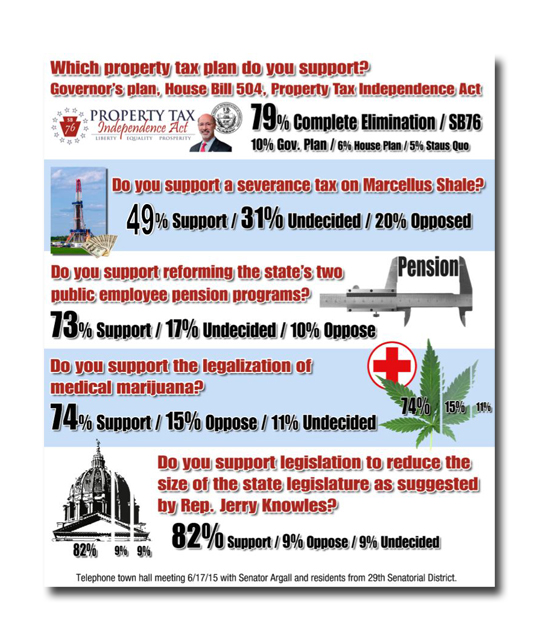 I hope you'll join me when I host my next town hall meeting, whether it's on the phone or in your local community.
---
Committee approves Argall proposal to allow private sector to escort super load transports
The Senate Transportation Committee unanimously approved a proposal I sponsored on Tuesday that would remove a serious burden from the Pennsylvania State Police by allowing qualified private companies to facilitate transportation of super-sized loads.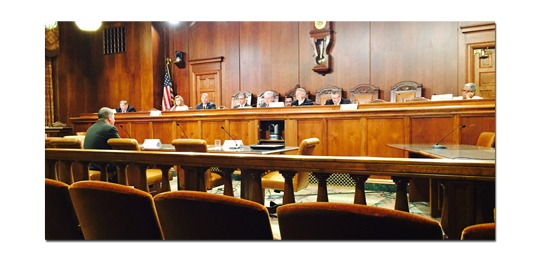 My legislation would require the Pennsylvania Department of Transportation (PennDOT) and the State Police to approve routes for super-sized load vehicles, which often carry bridge beams, steel structures and other large items. PennDOT would also create a certification program to ensure safety standards are met when escorting these vehicles in Pennsylvania.

Learn more about my proposal here.
---
Senate approves 911 reauthorization measure
On Tuesday, the Senate approved House Bill 911, legislation that will reauthorize the Emergency 9-1-1 System in Pennsylvania. The current fee on wireless devices is set to expire on June 30, 2015, unless the law is reauthorized. House Bill 911 would set the fee at $1.65 a month per device. The bill returns to the House of Representatives for a concurrence vote.
Other bills approved by the Senate and sent to the House this week include:
Senate Bill 590, which ensures that the intellectual property rights of faculty members of state-owned universities are protected at the same level as faculty at private colleges and universities in the Commonwealth.
Senate Bill 687, which amends the Uniform Planned Community Act to correct a conflict which was created by a Pennsylvania Supreme Court decision.
Senate Bill 688, which amends the Uniform Condominium Act to correct a conflict which was created by a Pennsylvania Supreme Court decision.
Senate Bill 861, which clarifies liability issues in cases involving auto dealership loaner vehicles.
Senate Bill 880, which delays the implementation of the Keystone Exams (algebra, biology and literature) as a graduation requirement until the 2018-2019 school year.