Follow Sen. Argall on Twitter for Senate happenings – @SenatorArgall
PCN LIVE Call-In Program
From 7:00 p.m. – 8:00 p.m., I will join Senator John Yudichak (D-Luzerne/Carbon) on the Pennsylvania Cable Network's LIVE Call-In program to field YOUR QUESTIONS on school property tax elimination efforts.
Senator Yudichak and I are two of the prime sponsors of the Senate proposal that would eliminate school property taxes in Pennsylvania.
Last year, we fell one vote short of passing this historic measure in the Senate and sending it over to the House of Representatives.
Tonight, Sen. Yudichak and I will take questions from callers from all across the state on this key issue.
Part of tonight's discussion will focus on a peer-reviewed paper that was published earlier this year that my staff and I wrote for Temple University's Commonwealth: A Journal of Pennsylvania Politics and Policy. You can read our reasons (in excruciating detail) why Pennsylvania should abolish the school property taxes here.
Please call 1-877-726-5001 to participate between 7:00 – 8:00 p.m. We hope you can join us!
I hope to hear from you tonight!! Please feel free to email me your thoughts of tonight's program.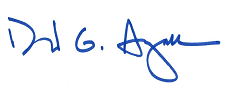 Sincerely,
David G. Argall
State Senator
29th District
PS: Did you see my recent letter to the editor in the Reading Eagle? I responded to an editorial that claimed school property tax reform "saw no action" this session. Stating that Senate Bill 76 saw no action is a mischaracterization.
If you want to get involved in the fight to eliminate school property taxes, the Pennsylvania Coalition of Taxpayer Associations has been leading the charge across the state. You can visit their website to get involved to ensure there is more "action" on this issue next session – www.ptcc.us.
One thing is for certain: We are not giving up on this issue.