Toll Free: 1-877-327-4255
Harrisburg Office
Senate Box 203029
171 Main Capitol
Harrisburg, PA 17120-3029
717-787-2637
717-783-8657 FAX
Email: dargall@pasen.gov
District Offices
One West Centre Street
P.O. Box 150
Mahanoy City, PA 17948
570-773-0891
570-773-1675 FAX
61 North Third Street
Hamburg, PA 19526-1501
610-562-3411
610-562-6895 FAX
(Shared with Representative
Jerry Knowles)
100 North Centre Street
Pottsville, PA 17901
570-621-3400
570-622-6629 FAX
(Shared with Representative Mike Tobash)
2850 Windmill Road
Spring Township, PA 19608
1-877-327-4255
237 West Broad Street
Tamaqua, PA 18252
570-668-1240
570-952-3374 FAX
(Shared with Representative
Jerry Knowles)
Follow Sen. Argall on Twitter for Senate happenings – @SenatorArgall
Please join me for a town hall event tomorrow night (Tuesday, May 10) at 6! The best part about the event is that you can participate from your own home!
These live telephone town hall meetings allow me to hear your concerns and directly field your questions regarding your state government.
We will be discussing several hot-button issues, including efforts on school property tax reform, the state budget, pension reform and other issues that are important to you!
The event will run from 6 p.m. – 7 p.m.
In order to guarantee a spot, please sign up on my website now. Once you are signed up, you will receive a phone call tomorrow night around 6 p.m.
If you would like to listen in on the conversation, please dial 1-877-229-8493 and using access code 111786.
I look forward to hearing from you.
Sincerely,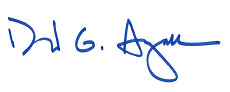 DAVID G. ARGALL
State Senator
29th District