State budget for 2016-17 sent to governor
ACU Award for Conservative Achievement
Strausstown community meeting
In wake of Shenandoah fire, Argall renews fight for demolition funding
Third Saturday of July designated Anthracite Heritage Day in Pennsylvania
Establishing the Independent Office of the Repealer
Legislation extending fire & EMS grant program signed into law
State champion Williams Valley softball team recognized at PA Capitol
Tamaqua Area Historical Museum now open – hours posted
Senate approves measure to ease substitute teacher shortage
Senate confirms state Adjutant General
Appellate, county court judges confirmed by Senate
DEP Rebates for Alternative Fuel Vehicles Still Available
---
State budget for 2016-17 sent to governor
The legislature passed and sent to the governor a balanced and on-time Fiscal Year 2016-17 General Fund Budget that boosts funding for education to the highest level in state history, restores funding for agricultural programs cut by the governor, and allocates new funds to fight the state's opioid epidemic.
The Senate overwhelmingly supported the budget with a vote of 47-3.
Senate Bill 1073 supports the core functions of government and allocates $245 million in new funding for basic education, special education, and Pre-K Counts without the need for new or increased income or sales tax.
In addition to school property tax elimination, addressing the public pension issue remains a top priority for me, as public pensions continue to be among the largest cost drivers for state government, school districts and municipalities. Payments to PSERS for school employee pensions accounted for $345 million in new spending to a total of over $2 billion in Fiscal Year 2016-17. State employee pensions required an additional $140 million in General Fund spending for a total of $770 million.
The budget restores funding for key agricultural programs eliminated by the governor and provides $2 million in new funding to combat avian flu. Overall, the Department of Agriculture budget is increased by $6.9 million to a total of $143.7 million for Fiscal Year 2016-17.
SB 1073 also includes $15 million to address the state's opioid epidemic and $11 million in additional funding for veterans' homes.
The governor has until midnight on Monday, July 11 to sign the budget.
The state's 2016-17 Fiscal Year started on Friday, July 1.
---
ACU Award for Conservative Achievement
I'm honored to receive the "Award for Conservative Achievement" from The American Conservative Union (ACU). Last week, Charlie Gerow, ACU Board Member, and Matt Schlapp, ACU Chairman, presented me with the award in the Capitol Rotunda.
The ACU is America's oldest and largest grassroots conservative organization. Founded in 1964, ACU represents the views of Americans who are concerned with economic growth through lower taxes and reduced government spending and the issues of liberty, personal responsibility, traditional values and national security. You can find more information about this year's rankings here.
---
Strausstown community meeting
On Thursday I joined with Representative Jozwiak to host a community meeting at the Strausstown Fire Company Community Campus. At this meeting, local residents were able to discuss some of their concerns facing the state and their communities. As is often the case, the #1 issue was the need to eliminate the school property tax and find a more fair and equitable way to fund our public schools. Representative Jozwiak and I shared the status of SB 76: Given the 24-24 vote late last year in the Senate, we are still seeking two more senators to join us so that this bill can be sent to the House for its consideration. Despite the many obstacles, at the request of so many of our residents, we are not giving up!
---
In wake of Shenandoah fire, Argall renews fight for demolition funding
In the wake of the recent fire that destroyed over a dozen row homes, I'm renewing my fight for proposals that would provide significant funding to demolish vacant and abandoned properties in Berks and Schuylkill Counties.
Our state now has some of the toughest laws in the nation when it comes to fighting blight. The problem, however, is that many municipalities lack the funds necessary to demolish blighted buildings.
I'm sponsoring a bipartisan measure that would provide counties with an option to raise up to $15 per mortgage or deed to provide additional demolition funding.
Shenandoah's population peaked around 30,000 in the 1930s. Their population now hovers around 5,000 – there are a lot of vacant properties that need to come down and they don't have the extra money set aside for demolition, nor do most of the communities I represent.
On an average year, Schuylkill County would raise $130,000 annually for this program if the county enacted the $15 fee. Berks County would realize $315,000 annually under the same fee.
Read more about my efforts here. You can also read an article on this issue in the Republican Herald.
---
Third Saturday of July designated Anthracite Heritage Day in Pennsylvania
The Senate adopted a resolution sponsored by five senators from Northeastern Pennsylvania's anthracite coal country officially designating July 16 as Anthracite Heritage Day in the state.
Coal is more than just an important local natural resource. The coal region is defined by a work ethic and way of life. I'm proud to represent so many hard working men and women who work in this industry.
Read more about Anthracite Heritage Day here.
---
Establishing the Independent Office of the Repealer
Two senators are working on a proposal to review the thousands of regulations and acts on the books in Pennsylvania by creating the Office of the Repealer. The office would be tasked with reviewing, recommending and evaluating the merits of laws and making suggestions to the legislature, governor and executive agencies for repeal, modification and/or revision. I'm proud to cosponsor this measure.
You can read more about this effort here.
---
Legislation extending fire & EMS grant program signed into law
A bill reauthorizing a popular Fire/EMS grant program for four years received final legislative approval and was signed into law by the governor.
Under House Bill 1877, the Fire and Emergency Medical Services grant program is reauthorized to continue for an additional four years until June 30, 2020. Currently, all fire companies, volunteer ambulance services and volunteer rescue squads are eligible for grant funding. The grants may be used for construction or renovation of a unit's station, the purchase or repair of equipment, training or debt reduction. The maximum grant amount is $15,000 for fire companies and $10,000 for volunteer ambulance services.
A number of other bills received final legislative approval and were sent to the Governor for enactment into law.
House Bill 59 requires that all individuals born between 1945 and 1965 be offered a hepatitis C screening or diagnostic test when treated at hospitals, health care facilities or physicians' offices.
House Bill 60 addresses the cost disparity between intravenous and oral chemotherapy treatments.
House Bill 64 requires licensed psychologists, social workers, marriage and family therapists and professional counselors to complete at least one hour of continuing education in suicide prevention.
House Bill 898 designates Philadelphia Prison System prisoner transport units and emergency response vehicles operated by the PA Turnpike as emergency vehicles, permitting them to utilize flashing lights and sirens.
Senate Bill 917 allows for the sharing of county agency, juvenile probation, drug and alcohol, mental health and education records in certain cases involving juveniles.
House Bill 1062 amends the Human Services Code to phase out the county share, extend the nursing facility budget adjustment factor, extend certain assessments, extend the Medical Assistance (MA) day-one incentive payment, extend child welfare provider submissions, suspend MA coverage for incarcerated individuals, eliminate the requirement of solely dedicated assisted living licensure staff, and move the eHealth Partnership Authority to the Department of Human Services.
Senate Bill 1104 implements changes from a June 2010 report issued by the Joint State Government Commission entitled, "The Probate, Estates and Fiduciaries Code: Proposed Amendments to Title 20 of the Pennsylvania Consolidated Statutes."
Senate Bill 1123 corrects a regulatory issue relating to gasoline in Pennsylvania.
House Bill 1167 adds a new section to the Crime Victims Act concerning a state income tax intercept. It requires the Department of Revenue to deduct court-ordered obligations owed by a taxpayer from any tax refund due the taxpayer, notify the taxpayer that the deduction has been made, and pay any amount remaining to the taxpayer.
Senate Bill 1194 removes the sunset date of June 30, 2016 from the "State Military College Legislative Appointment Initiative." Act 29 of 2012 allows members of the General Assembly to appoint annually an eligible student from their legislative districts.
House Bill 1335 removes the requirement in state law that the Turnpike Commission must install and maintain emergency telephones every two miles on both sides of the Turnpike.
---
State champion Williams Valley softball team recognized at PA Capitol
The 2016 PIAA Class A softball champions were recognized by local legislators at the state Capitol last week.
The Williams Valley softball team, which captured the state title earlier this month, was formally introduced in the Senate and House of Representatives during their visit.
I had the privilege to introduce the champions to the Senate of Pennsylvania.
You can watch my remarks here.
---
Tamaqua Area Historical Museum now open – hours posted
Last month, I received a sneak peak of the Tamaqua Area Historical Museum. I'd like to thank Dale Freudenberger for the preview and for his and his team's efforts over many years. You can visit the Tamaqua Area Historical Museum, located at 118 West Broad Street in Tamaqua.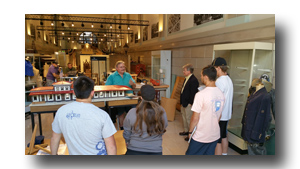 Photo Credit: Andrew Leibenguth
The museum's summer hours (July 3 – October 31) are as follows:
Thursday: 3 p.m. – 8 p.m.
Friday: 3 p.m. – 8 p.m.
Saturday: 9 a.m. – 1 p.m.
Other times are available by appointment. If you have questions or suggestions, please call 610-597-6722.
---
Senate approves measure to ease substitute teacher shortage
The Senate recently passed legislation that would address the growing problem of the shortage of substitute teachers available for school districts.
Some school districts have been reporting vacancy 'fill' rates of only 70 percent on any given day, and some areas have opted to outsource their substitutes or have been left with no choice but to request frequent emergency permits for day-to-day substitutes, which interrupts the learning process and cuts into precious instructional time.
Senate Bill 1312 allows college students who have completed 60 credit hours and who are enrolled in a teacher preparation program at a four-year college in Pennsylvania to substitute for a limited number of days in any school district in the Commonwealth.
The bill now goes to the House of Representatives for consideration.
The Senate also approved and sent to the House of Representatives a number of other bills for consideration.
Senate Bill 141 amends the Real Estate Seller Disclosure Law to require disclosure of a property's flood history.
Senate Bill 289 authorizes, but does not require, a municipality or municipal authority to use public funds for the improvement, extension, repair or rehabilitation of private lateral sewer lines connected to sewage disposal systems.
Senate Bill 613 gives each of Pennsylvania's counties the opportunity to participate in the Human Services Development Block Grant by removing the statutory limit.
Senate Bill 666 amends the Uniform Planned Community Act to provide more transparency for homeowner's associations.
Senate Bill 691 increases a retailer's presumptive minimum cost of administering the cigarette tax.
Senate Bill 703 enacts the Plumbing Contractor Licensure Act by establishing the State Board of Plumbing Contractors within the Department of Labor and Industry.
House Bill 871 allows for the de-titling of vehicles which are recycled by a scrap metal processor. The bill returns to the House for concurrence on Senate amendments.
House Bill 967 establishes an agricultural pilot program for industrial hemp research. The bill returns to the House for concurrence on Senate amendments.
Senate Bill 1018 makes several changes to the CPA Law.
Senate Bill 1221 reforms the Pittsburgh Intergovernmental Cooperation Authority.
Senate Bill 1226 would streamline and improve the Pennsylvania Veterans Trust Fund and ensure that it continues to provide assistance to those who have served in uniform.
Senate Bill 1265 gives employers the option to pay an employees' wages in the form of a debit card.
Senate Bill 1267 enhances the Pennsylvania Department of Transportation's Municipal Signal Partnership Program known as Green Light-Go.
Senate Bill 1282 clarifies the manner in which a county Recorders of Deeds Office may charge fees for the recording of amendments to declarations of condominiums, cooperatives and planned communities.
Senate Bill 1311 brings Pennsylvania into compliance with federal requirements under the Child Abuse Prevention and Treatment Act by addressing parents who have committed child sexual abuse and the treatment of children victimized by human trafficking.
House Bill 1947 addresses criminal and civil actions regarding childhood sexual assault.
---
Senate confirms state Adjutant General
The Senate confirmed Brigadier General Anthony Carrelli as Adjutant General of the Pennsylvania Department of Military and Veterans Affairs last Wednesday. In this cabinet-level position with the Pennsylvania Department of Military and Veterans Affairs, headquartered at Fort Indiantown Gap, Brig. Gen. Carrelli is responsible for command, control and supervision of National Guard units – Army and Air – allocated to the Commonwealth of Pennsylvania, six state-owned veterans' homes and programs for Pennsylvania's approximately 916,000 veterans.
Prior to the vote by the full Senate, the nomination was considered and approved by the Senate Veterans Affairs & Emergency Preparedness Committee. Here are links to the Audio and Video from the committee meeting.
---
Appellate, county court judges confirmed by Senate
Pennsylvania's appellate court benches added six new judges Monday when the Senate recently confirmed nominations for those judicial vacancies. The confirmations included: Sallie Mundy for Supreme Court; Carl A. Solano, Lillian Harris Ransom and Hugh Geoffrey Moulton, Jr. for Superior Court; and Joseph Cosgrove and Julia Hearthway for Commonwealth Court.
The Senate also confirmed several County Court of Common Pleas Judges on Wednesday: David L. Spurgeon (Allegheny); Jill Gehman Koestel (Berks); Jeffrey G. Trauger (Bucks); Lori K. Serratelli (Dauphin); Julia K. Munley (Lackawanna); Daniel K. McCarthy (Lehigh); Joseph P. Walsh (Montgomery); Lucretia C. Clemons, Vincent W. Furlong, Roger F. Gordon, Vincent N. Melchiorre, Daniel R. Sulman and Stella M. Tsai (Philadelphia); Damon J. Faldowski (Washington); and Christy H. Fawcett and Kathleen J. Prendergast (York).
---
DEP Rebates for Alternative Fuel Vehicles Still Available
The Department of Environmental Protection (DEP) is reminding Pennsylvania car buyers of rebates to assist with the cost of purchasing a new alternative fuel vehicle.
"Rebates are available for battery electric vehicles, plug-in hybrid electric vehicles, and alternative fuels like natural gas and fuel cell vehicles," said DEP Acting Secretary Patrick McDonnell. "These vehicles are helping to reduce climate change causing emissions and are a part of a sustainable Pennsylvania."
These rebates are funded by the Alternative Fuels Incentive Grant Program, which is supported by a gross receipts tax on utilities. To qualify, the vehicle must be registered in Pennsylvania, operated primarily in-state, and be purchased no more than six months before the rebate application is submitted. Rebates are available for new cars only.

Large-battery vehicles are eligible for a rebate of $2,000 (examples include models such as the Nissan Leaf, Ford Focus, Chevy Volt, and similar models from BMW, Volkswagen and Tesla. DEP is also offering rebates of $1,000 for plug-in hybrid electric vehicles and battery-electric vehicles (examples include the Hyundai Sonata, Ford C-Max Energi, BMW x5, Volvo XC).

Rebates of $1,000 are also being offered for natural gas, propane, hydrogen or fuel-cell vehicles, such as the CNG powered Honda Civic or any new CNG powered car or pickup truck. CNG original equipment, manufacturer retrofits, or certified conversions to CNG or propane are also eligible for the $1,000 rebate. A $500 rebate is available for electric motorcycles and scooters.

There are only a limited number of rebates available at $2,000. The rebate program offered will be reassessed upon payment of the first 250 rebates at $2,000 or December 31, 2016, whichever occurs first.

For more information on the types of eligible vehicles and to apply for a rebate, click here.