Follow Sen. Argall on Twitter for Senate happenings – @SenatorArgall
In this email update:
Bipartisan effort to crack down on welfare fraud and abuse heads to governor
Anti-blight funding measure wins support of legislature, heads to governor
State corrections officers may soon be able to carry pepper spray
Legislation advanced to combat opioid addiction crisis
Bill to protect patients and providers heads to governor's desk
Berks Encore Senior Expo
Senate approves resolution calling on feds to reverse detrimental floodplain regulations
Meet intern Brett Ennis
Veterans, emergency responder bills sent to governor
Bills addressing government reform, accountability approved
Senate and House send governor consumer convenience bill
Economic development, business, community improvement bills approved
Legislature approves firearms, public safety measures
Education bills head to governor's desk
Five health, insurance bills sent to the governor
---
Bipartisan effort to crack down on welfare fraud and abuse heads to governor
On Monday, by a vote of 29 – 18, the Senate of Pennsylvania approved a measure I authored to increase the number of investigators tasked with finding welfare waste, fraud, abuse and misuse.
Under my amendment to House Bill 1618, the Office of Inspector General (OIG) would hire at least 50 percent additional staff with a single purpose: investigate fraud, waste, misconduct and abuse claims from the Department of Human Services and Department of Health.
For every dollar spent on welfare investigative and collective activities in the OIG, the state realizes an estimated benefit of $12. This program would pay for itself again and again. More importantly, it maintains the integrity of our social assistance programs by ensuring those who need the help get it, and the cheaters get caught.
On Wednesday, I joined Representative Mindy Fee (R-Lancaster), Senator Ryan Aument (R-Lancaster) and members of the House and Senate to urge the governor to sign this bill containing my amendment.
House Bill 1618 takes Governor Casey's original concept of having a waste, fraud and abuse watchdog for state agencies, which was created by executive order, and formally creates the post by law.
The bill promotes independence for the office by requiring a bi-partisan process to be used to select the Inspector General by having the governor nominate a candidate and requiring two-thirds of the Senate to approve that choice. The Inspector General would serve a six year term, be prohibited from seeking political office during and shortly after that period, and do the important work eradicating waste, fraud and abuse without political interference.
Read more about our efforts here.
Anyone who has information regarding welfare fraud is encouraged to call the OIG's toll free welfare fraud tipline at 1-800-932-0582.
---
Anti-blight funding measure wins support of legislature, heads to governor
The House of Representatives approved a bill I sponsored that will allow counties across the state to create a local demolition funding program.
Despite having some of the toughest anti-blight laws on the books, communities still struggle for funding to demolish vacant and abandoned properties.
Under my bill, counties would have the option to place an additional fee up to $15 on deeds and mortgages recorded in the county.
This bill would mean over $300,000 in Berks County and more than $130,000 in Schuylkill County for demolition projects. This is another tool for communities to continue their war on blight.
The new revenue would be used exclusively for demolition funding within that specific county.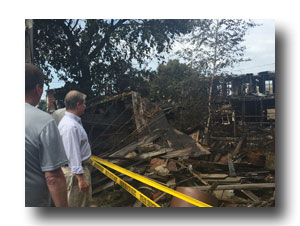 Senator Argall examines the remains of vacant buildings that were destroyed by a fire in Shenandoah in June of 2016.
If you look at a community like Shenandoah, which lost 80 percent of its population since the peak of the anthracite coal industry, there are a lot of empty homes.
Those abandoned properties are a threat to public safety, as well as leading to the deterioration of property values of neighboring properties that are occupied. This is housing helping housing.
Last summer, a fire destroyed 13 abandoned homes in Shenandoah. Fortunately, no one was injured, but it's still a reminder that we cannot fix every property – sometimes they need to come down. This bill provides an added investment that is targeted to those communities that need it the most, like Shenandoah.
The bill heads to the governor's desk for his signature. Read more here.
You can listen to my comments about the passage of this bill here.
---
State corrections officers may soon be able to carry pepper spray
On Wednesday, the state Senate unanimously approved legislation to allow state corrections officers to carry pepper spray while on the job. This is a very important issue to the men and women who dedicate their lives to public safety at the two state correctional institutions I represent, and those who work at correctional facilities across the state.
The bill now awaits the governor's signature.
---
Legislation advanced to combat opioid addiction crisis
Four measures addressing the state's growing opioid addiction crisis received final Legislative approval this week and were sent to the governor for enactment into law.
Senate Bill 1202 requires licensed medication dispensers and prescribers to receive two hours of continuing education in pain management or in the prescribing practices of opioids.
Senate Bill 1367 limits the amount of opioids that children may be prescribed, with reasonable exceptions for cases involving chronic pain, cancer treatment or for palliative care or hospice care. It also requires a health care professional to obtain written consent from a minor's parent or legal guardian to prescribe a medical treatment containing opioids, and provide information on the risks of addiction and dangers of overdose associated with the medication.
Senate Bill 1368 implements the Safe Opioid Prescribing Curriculum in all of Pennsylvania's medical schools. The plan calls for a focus in four key areas including pain management; multimodal treatments for chronic pain that minimize the use of opioids, or when opioids are indicated, to prescribe them in a way that is safe and that follows guideline-based care; focusing on patients who have been identified as at-risk for developing problems with prescription opioids; and teaching medical students how to manage substance abuse disorders as a chronic disease.
House Bill 1699 creates the Safe Emergency Prescribing Act and limits the quantity of opioids which may be prescribed to a patient seeking treatment in a hospital emergency department or urgent care center.
The increased use of heroin, which often has roots in the abuse of prescription painkillers like Vicodin and OxyContin, has catapulted Pennsylvania to seventh in the nation for drug-related overdose deaths in recent federal statistics. On average at least ten Pennsylvanians die every day from a drug overdose, with over 3,500 overdose deaths in Pennsylvania in 2015.
According to a National Survey of Primary Care Physicians, nine out of 10 doctors reported prescription drug abuse as a moderate to large problem in their communities, and 85 percent believed that prescription drugs are overused in clinical practice.
In an effort to address the safe disposal of prescription medicines, the Legislature also sent the Governor House Bill 1737. This measure amends the Waste Tire Recycling Act/Small Business and Household Pollution Prevention Program Act, to include and provide for the destruction of household prescription drugs and pharmaceutical waste.
The measure could assist in reducing abuse of prescription drugs. Operators of some waste-to-energy plants in Pennsylvania run programs which offer free and safe disposal, which could curb contamination of surface and drinking waters caused by flushing drugs or placing them in a landfill.
---
Bill to protect patients and providers heads to governor's desk
Legislation that will provide much-needed protection for patients and health care providers was unanimously approved by the Senate on Wednesday.
This measure will put safeguards in place for medical providers. More importantly, patients and their doctors won't have to worry past a reasonable time period that insurers could retroactively deny reimbursement.
Currently, insurance companies may retroactively deny reimbursement to health care providers at any time and unilaterally reduce future payments to recover the denied amount. The bill would limit insurers' ability to retroactively deny reimbursements to two years.
I introduced the legislation in the Senate. Rep. Karen Boback (R-Luzerne) sponsored the House version of the bill.
The bill now heads to the governor for his signature.
Read more about my proposal here.
---
Berks Encore Senior Expo
On Tuesday, my staff participated in the 15th Berks Encore Senior Expo in downtown Reading.
The event allowed my staff, along with the staff of U.S. Senator Pat Toomey, to provide information related to federal and state programs. Thank you to everyone who made it out to this year's event to meet with my staff.
You can read more about the event in the Reading Eagle.
---
Senate approves resolution calling on feds to reverse detrimental floodplain regulations
The Senate of Pennsylvania overwhelmingly voted to call on the President and Congress to review the federal floodplain management standards that were instituted by executive order in January 2015.
Senate Resolution 421 is in response to local redevelopment efforts that are hamstrung due to the new federal standards.
As a result of the changes to the federal standards, development proposals competing for housing tax credits through the Pennsylvania Housing Finance Agency are at a distinct disadvantage when located within a designated floodplain.
The community of Port Carbon is working with a developer interested in a senior housing project. However, the property is partially in a floodplain, creating a serious obstacle to the site's redevelopment.
The Resolution will be sent to the President and Pennsylvania's Congressional delegation.
Read more about my efforts here.
---
Meet intern Brett Ennis
During Senate session on Monday, I introduced my intern for the fall semester, Brett Ennis.
Brett's a Gordon native who is studying political science at Temple University. Brett participated in my "Senator for a Day" program when he was a senior at North Schuylkill High School.
This past summer Brett also interned for SEDCO where he learned about the significant impact that economic development has on our communities. I am glad to have Brett as an intern in my office and I look forward to having him continue to gain first-hand experience into the inner-workings and functions of state government.
---
Veterans, emergency responder bills sent to governor
I am extremely pleased to report that six bills that benefit emergency responders and veterans received final legislative approval this week and were sent to the governor's desk for enactment into law.
House Bill 49 extends the death benefit that is currently available to other emergency responders to members of the Pennsylvania Civil Air Patrol.
House Bill 192 requires the State Civil Service Commission to advertise the veterans' preference on all of the commission's examination materials, announcements and advertisements, and on the commission's website.
House Bill 1600 provides an exemption for the payment of a state business fee for a veteran-owned small business.
House Bill 1683 would authorize municipalities to enact income tax credits for active volunteer firefighters and EMS providers. The measure is intended to help municipalities recruit and retain these valuable volunteers.
House Bill 2058 would allow paramedics to conduct blood draws at police stations - rather than hospitals - from persons suspected of driving under the influence of alcohol or a controlled substance.
House Bill 2148 amends the Enforcement Officers Disability Benefits Law to extend coverage to certain individuals employed as firefighters.
---
Bills addressing government reform, accountability approved
As part of the ongoing effort to increase government accountability at the state, county and local levels, the legislature approved government reform measures bills providing for an independent review of state operations as well as the appointment of special investigators in cases of wrongdoing in the state Attorney General's Office.
Senate Bill 562 amends the Regulatory Review Act to provide for more legislative oversight of and involvement with the Independent Regulatory Review Commission during the regulatory review process.
Senate Bill 898 amends the Second Class County Code providing for revenue neutrality of taxes following countywide reassessments.
Senate Bill 899 amends the Consolidated County Assessment Law providing for revenue neutrality of taxes following countywide reassessments.
House Bill 1087 provides veto power to the Governor of Pennsylvania over the actions of Pennsylvania's Commissioners on the Delaware River Port Authority Board.
House Bill 1118 authorizes the appointment a Special Investigative Counsel to investigate the Attorney General, an Assistant Attorney General, senior aide, or campaign chair who may have committed an offense classified higher than a misdemeanor of the second degree, or an offense higher than a summary involving a breach of public trust.
House Bill 1998 addresses membership on the Philadelphia Parking Authority Board.
House Bill 2107 prohibits the Department of General Services from contracting with companies that are engaged in a boycott of a person or entity based in the Commonwealth.
---
Senate and House send governor consumer convenience bill
After substantial debate and numerous revisions, the legislature gave final approval Wednesday to a bill that makes a number of changes to the state's Liquor Law to provide additional convenience for consumers.
Changes under House Bill 1196 include:
Allowing beer distributors to sell beer in any amount/configuration, as well as growlers, for off-premise consumption.
Allowing the direct shipment of up to 192 ounces of beer per month from manufacturers to consumers.
Permitting Sunday sales hours beginning at 9 a.m. and removing the food requirement for those establishments.
Allowing mixed drinks to be consumed at stadiums in the same areas as beer.
Removing the two-bottle minimum for special liquor orders.
House Bill 1196 now goes to the governor for enactment into law.
---
Economic development, business, community improvement bills approved
The legislature gave final approval to a number of bills intended to spur economic development, assist businesses and employees, and help local communities. The bills are now headed to the governor's desk.
House Bill 245 amends the Local Tax Enabling Act to clarify certain provisions related to the consolidated collection of local income taxes and delinquent taxes.
Senate Bill 356 amends the Local Tax Enabling Act to further provide for filings and quarterly payments of the local earned income tax by persons who make their living from farming.
Senate Bill 385 reforms and modernizes the Transit Revitalization Investment District Act.
Senate Bill 613 gives each of Pennsylvania's counties the opportunity to participate in the Human Services Development Block Grant by removing the statutory limit.
House Bill 850 amends the Money Transmission Licensing Law of 1965 to modernize the law and update certain licensing provisions.
Senate Bill 881 amends the definition of "public utility" in state statute to provide an exception for a resort offering water or sewer services to private homes who take service at a point within the property boundaries of the resort.
Senate Bill 1018 makes several changes to the CPA Law.
Senate Bill 1235 extends the sunset provision of the Underground Utility Protection Law from December 31, 2016 to December 31, 2017.
Senate Bill 1265 gives employers the option to pay an employees' wages in the form of a debit card.
Senate Bill 1282 disallows per-parcel fees to units within condominiums, cooperatives and planned communities.
House Bill 1398 amends Title 15 (Corporations and Unincorporated Associations) and Title 54 (Names) to modernize the laws on limited liability partnerships, general partnerships, limited partnerships and limited liability companies.
House Bill 1437 reduces from 18 to 12 months the period that the purchaser of a building or structure with substantial violations of municipal codes has to bring it into compliance or demolish it.
House Bill 1653 provides for the recognition of diverse and disadvantaged businesses by the Department of General Services.
House Bill 2303 repeals the Race Horse Industry Reform article in the Administrative Code, inserts it in the Agriculture Code, and provides for Breeding Fund awards.
House Bill 2370 amends the Tax Reform Code of 1971 by further providing for the applicability of realty transfer tax exclusion provisions enacted as part of Act 84 of 2016.
---
Legislature approves firearms, public safety measures
Several bills addressing firearms or crime issues were approved by the General Assembly this week and sent to the governor for enactment.
House Bill 263 removes the restriction on air, chemical or gas cylinder powered firearms for hunting. This bill does not automatically allow the use of such weapons for any particular species, but rather gives the Pennsylvania Game Commission regulatory authority to permit the use of such weapons. The bill was amended in the Senate with the language of Senate Bill 737 which permits the limited use of semi-automatic sporting rifles for hunting coyotes and woodchucks.
Senate Bill 1062 increases penalties for home invasion burglaries.
Senate Bill 1311 brings Pennsylvania into compliance with federal requirements under the Child Abuse Prevention and Treatment Act by addressing parents who have committed child sexual abuse and the treatment of children victimized by human trafficking.
House Bill 1496 amends the Crimes Code to increase penalties for possession of a firearm by a convicted felon.
House Bill 1538 addresses the release of law enforcement officer information in cases involving the discharge of a firearm or use of force.
House Bill 2084 would require the Department of Corrections to issue pepper spray on a routine basis to any officer or employee of the Department who may be called upon to respond to an emergency situation.
---
Education bills head to governor's desk
Among the measures receiving final legislative approval this week were several bills addressing education-related issues.
House Bill 1864 amends the Cosmetology Law to clarify that cosmetology schools are permitted to charge the public a reasonable fee for student practice.
House Bill 1907 makes extensive revisions to the Public School Code concerning compulsory attendance and truancy, including changes to definitions, procedures, and penalties. It also creates a new section concerning the establishment of attendance policies at charter, regional charter, and cyber charter schools.
House Bill 2078 amends the Public School Code concerning the issuing of permanent college certificates, continuing professional education, and the professional educator discipline fee.
House Bill 2338 provides for student protection during the transition of a postsecondary education institution to a new accreditor if the United States Department of Education discontinues its recognition of the institution's national accrediting agency.
---
Five health, insurance bills sent to the Governor
Five bills addressing health or insurance were sent to the governor this week.
House Bill 162 would provide an adult adoptee with access to a noncertified copy of his or her original birth record information from the Department of Health without the consent of the birth parents and allows for redaction of birth parent names from a birth record.
House Bill 516 establishes the Naturopathic Doctors Practice Act and requires the licensure of naturopathic doctors with the State Board of Medicine.
House Bill 946 provides a framework for pharmacy benefit managers and other entities -- such as managed care organizations, third-party payers, or governmental health programs -- to conduct audits within a pharmacy.
House Bill 1403 addresses unclaimed life insurance benefits. The bill would require an insurer to compare its insureds' in-force life insurance policies, contracts and retained asset accounts against the Social Security Administration's Death Master File or any other database or service that is at least as comprehensive for determining whether an individual has died.
House Bill 1785 requires assisted living residences and personal care homes to post information regarding the flu vaccine.