Follow Sen. Argall on Twitter for Senate happenings – @SenatorArgall
In this Email Update:
Argall sworn-in to serve new term in state Senate
Controlling cost of state government
"Demolition fee worth pursuing"
Consolidating state agency operations, real estate could help with state's fiscal issues
Farm Show kicks off this weekend
Saving the best for last -- Action Alert: Property Tax Independence Act
---
Argall sworn-in to serve new term in state Senate
On Tuesday I was sworn-in for a third term to the Senate of Pennsylvania to represent the 29th Senatorial District during a ceremony at the state Capitol.
It's an honor and privilege to continue serving you in the Pennsylvania State Senate. It is also a major responsibility I do not take for granted.
My number one focus continues to be school property tax elimination (read more below). I'm also committed to finding ways to make state government more efficient and accountable to you, as well as rooting out waste, fraud and abuse within our welfare programs, and promoting job growth and economic development in Berks and Schuylkill counties.
I will once again serve in a leadership post for the 2017-18 legislative session as Chairman of the Senate Majority Policy Committee, which is tasked with developing legislation on a broad range of issues in the Senate.
Many media reports have noted that since January 2009, Democrats have lost over 1,030 seats in Congress, Governor's mansions, and state legislatures across the country. On Tuesday, five new Republican senators were sworn-in, bringing the current Senate composition to 34 Republicans to 16 Democrats.
Last session I was pleased to work on several issues suggested by local residents. Six bills I sponsored were signed into law last session, including:
Act 55 of 2015 allows for private sector escorts of super load vehicles. This removes the burden and cost from the Pennsylvania State Police, who would escort these vehicles across the state.
Act 22 of 2016 provides for an easement in South Heidelberg Township.
Act 84 of 2016 makes several changes to the Tax Reform Code of 1971, including changes to the City Revitalization and Improvement Zone (CRIZ) program. The changes allow for more municipalities, including over 340 townships and boroughs, to be eligible to apply for the program.
Act 152 of 2016 allows for counties to apply an additional fee up to $15 for every deed and mortgage recorded to be used exclusively for demolition of blighted properties.
Act 133 of 2016 allows for a shorter timeline when a new property owner must bring his or her property into compliance with local codes.
Act 146 of 2016 limits the period of when insurers can retroactively deny reimbursement to health providers to 24 months.
Below are several photos from swearing-in day at the Capitol: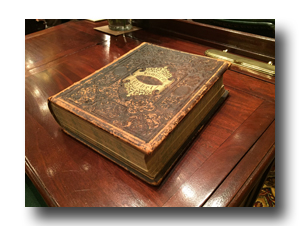 I was sworn into office using my great-grandmother Schultz's German family Bible, which dates back to the 1800s.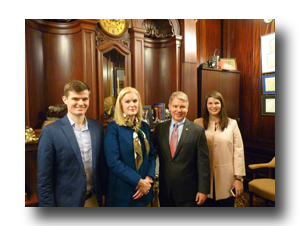 My wife, Beth and children, A.J. and Elise in my Capitol office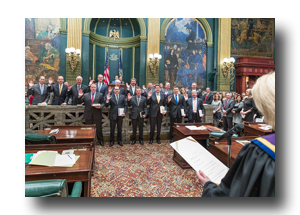 Photo of Republican state Senators taking the oath of office.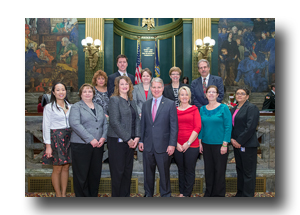 Photo with my staff on the Senate floor prior to swearing-in.
---
Controlling cost of state government
The state continues to grapple with a revenue shortfall leading up to the upcoming budget due June 30, 2017. Senator Scott Wagner wrote an op-ed calling on the legislature to reign in wasteful spending.
He highlights critical issues facing the residents of the 29th Senatorial District, including school tax reform.
In his op-ed, he states, "Take for example the issue of property taxes, which voters sent me to Harrisburg to address. We were very close to passing legislation in the Senate at the end of 2015, but a tie vote of 24-24 was broken by a negative vote cast by Lieutenant Governor Mike Stack. The Lieutenant Governor recently wrote his own op-ed regarding property taxes, in which he stated he is proud of his vote. And while he acknowledges we need to do something to reduce (not eliminate) property taxes, his main focus is keeping businesses on the hook for 25% of all property taxes."
He goes on to state that it is the consumer who pays the cost of school property taxes levied on businesses. "Rather than fear the loss of property taxes from businesses, how about we look at controlling spending and managing costs within Pennsylvania's education system?"
I agree 100 percent!
Please take a moment to read his op-ed in its entirety here.
We need to look at cost reductions, too. I plan on introducing and assisting my colleagues in introducing legislation that will look for greater efficiencies in state government and cut wasteful spending.
Here are a few of the bills I am currently soliciting support for in the legislature:
Senator Aument, Senator Regan and I are introducing a bill that would hire additional welfare fraud investigators within the state's Office of Inspector General. The average cost savings per welfare fraud investigator is estimated to be $1.28 million. Read more about our plan here.
I will also reintroduce a proposal I sponsored last session that will look at school district health care costs. Specifically, my bill would require school districts to join regional consortiums to purchase health care for their employees. Purchasing health care for 1,000 employees compared to 100 will get you a better rate per employee, resulting in savings for the taxpayers. Read more about my forthcoming bill here.
I also want a thorough review of the Pennsylvania State System of Higher Education by evaluating its long-term viability and sustainability. Please take a moment to read about that effort here.
Moving forward, I intend to introduce more legislation targeting welfare waste, fraud and abuse, in addition to my bill mentioned above.
---
"Demolition fee worth pursuing"
Last session I authored legislation that would provide a new tool in the anti-blight toolbox. Many older coal region towns continue to struggle with a high percentage of abandoned properties and lack of investment to tear down blighted structures.
Under Act 152 of 2016, counties could collect up to $15 in each deed and mortgage recorded at the County Recorder of Deeds office to be used exclusively for demolition within that county. A county has to opt-in to the program. In Schuylkill County, that could mean over $130,000 in new demolition funding once enacted.
Earlier this week, the Republican Herald wrote an editorial advocating for the demolition fee. In their editorial, they write, "Yet blight remains expensive, especially when governments exhaust options to hold property owners responsible for the decay and must pay for actual demolitions to ensure public safety."
Please take a moment to read their entire editorial and how this demolition fee could help property values increase over time.
---
Consolidating state agency operations, real estate could help with state's fiscal issues
PennLive recently reported that the governor is looking at consolidation of information technology (IT) and human resource functions within state agencies.
These are steps that could assist with our fiscal issues, however, Senator Randy Vulakovich and I want to take it further.
As I wrote in my last email update, Sen. Vulakovich and I will introduce legislation requiring all state executive and independent agencies to report their space usage to the Department of General Services.
We believe this will allow the state to get a handle on the problem. I do not see any reason why the state should lease office space when we have empty floors of state-owned office buildings right across the street.
Read more about our efforts here.
---
Farm Show kicks off this weekend
The 2017 Pennsylvania Farm Show is set to take over the Farm Show Complex and Expo Center, located at 2300 North Cameron Street in Harrisburg beginning with that famous Farm Show fare from noon to 9 p.m. on Saturday, January 6, 2017 and continuing until Saturday, January 14.
The 101st Farm Show promises to please with the expected and unexpected sights and sounds of more than 6,000 animals, 100,000 competitive exhibits and 300 commercial vendors.
From bull riding to baby duck slides, the Show will delight young and old alike.
Consult the schedule to be sure to catch your favorites, whether it's cooking and baking contests, tractor square dancing, animal judging, or any of a multitude of events.
Be sure to get all the results, recipes and follow-ups to Farm Show activities.
---
Saving the best for last: Action Alert: Property Tax Independence Act
This week, in bipartisan fashion, Senators Mike Folmer, Judy Schwank, John Yudichak, Mario Scavello, Scott Wagner, Lisa Boscola, Andy Dinniman and I circulated a cosponsorship memo to our colleagues soliciting their support for the forthcoming Property Tax Independence Act.
You can find the memo here.
As I stated earlier in this update – this is the number one issue in Berks and Schuylkill counties.
Last week, Senators Schwank, Mensch and I co-wrote an op-ed for the Reading Eagle refuting much of what the Lieutenant Governor said, stating that school property tax elimination is the only way to solve the school property tax problem.
Read the op-ed here.
We spelled out the reasons why elimination – not reduction – is the way to tackle the problem.
Several examples perfectly illustrate how strongly people believe in the principle of property tax elimination instead of a fleeting reduction:
When Governor Wolf initially pitched the idea of reducing – not eliminating – school property taxes, a Lehigh Valley-based radio station found that 89 percent of their listeners were opposed.
A Lehigh Valley-based newspaper asked its readers whether they preferred reduction or elimination, and over 80 percent of the participants said elimination is the "only solution" to deal with school property taxes.
In 1989, our late governor, Robert P. Casey, pursued a constitutional amendment to partially reduce school property taxes. The result: 75 percent voted to defeat this amendment, with only 25 percent in favor, making it one of the worst defeats for a referendum question in Pennsylvania history.
Even with all that we have learned from history and public opinion, the road ahead for Senate Bill and House Bill 76 remains difficult, with many well-funded special interest groups opposing us at every turn.
One principle should be very clear however, throughout this long struggle: we are not giving up!
I also wrote an op-ed in response to an editorial in the Republican Herald. Again, I advocated for elimination – not a reduction as advocated by the editorial board. I mentioned that our support has doubled in six years in the Senate on this key issue:
"On Nov. 8, the voters spoke out again in favor of eliminating school property taxes. In two critical Senate elections in central Pennsylvania, two opponents of Senate Bill 76 have been replaced by two supporters of the bill. One senator retired, and one senator was defeated on Election Day. In both cases, I have spoken to the new senators and their campaign teams and they will tell anyone who asks that their support for the elimination of school property taxes was one of the top issues in their election victories."
Read my reasons why we need to eliminate school property taxes here.
My friend and colleague, Senator Mike Folmer, wrote a strong op-ed earlier this week discussing the historical significance and reasoning behind the demand to eliminate school property taxes. Please take a moment to read his thoughtful words on this key topic – you can read it here.
Finally, please take a moment to complete two polls – one in the Morning Call and another with LehighValleyLive.com. They are asking readers their opinion on school property tax reform.
Please stay tuned for more updates on this and many other topics. If you know of a friend or family member who would like to receive email updates from me, please send them this link.